| | |
| --- | --- |
| Australia Telescope: Mopra Telescope | |
Visitors Guide to the Mopra Observatory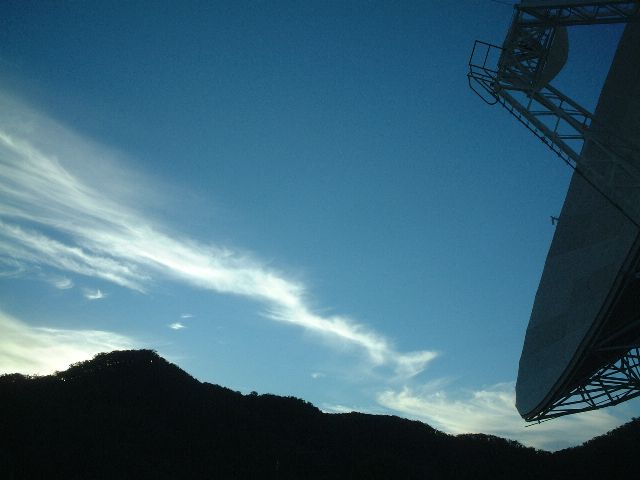 Contents
---
Remote operation in 2006
Remote operation from the Narrabri Observatory is now the default observing mode. Most astronomers now perform their observations from Narrabri. An observing desk and technical support are available from the Narrabri Control Building to achieve this. The Narrabri Observatory offers easier access, more observing support, better facilities, more comfortable accommodation, and catered meals.
---
Introduction
The Mopra 22-m antenna is part of the Australia Telescope National Facility (ATNF), operated by the CSIRO. It is used together with other AT antennas (the six 22-m dishes at Narrabri, and the 64-m Parkes dish) as part of the Australian Long Baseline Array. It is also used on its own, for single-dish observations, particularly at millimetre wavelengths.

Observing time is scheduled through the ATNF Time Assignment Committee. For information on how to apply please refer to the observers web pages.

The Mopra antenna is situated about 20 km west of the town of Coonabarabran, which is nearly 500 km north-west of Sydney. It is on the eastern edge of the Warrumbungle National Park, and about 4 km due east of the Siding Spring Observatory (a lot more by winding road). It was called the Mopra antenna after Mopra Rock (elevation > 1000 m) which is about 2 km south-west of the telescope and can be seen as you approach from Coonabarabran. More information about Coonabarabran, and some of the surrounding tourist attractions are described at the end of this guide.

The telescope is at latitude -31° 16' 04''".451, longitude +149° 05' 58''".732 (east of Greenwich), and its height above sea level is 850 m.

The Mopra site consists of the antenna and a control building which also contains the on-site accommodation. Access is off the road to the Siding Spring Observatory. There are two gates on the access road which need to be opened. There is a document giving the layout of the site.
---
Contacting The Mopra Observatory
For information on Mopra please contact the Paul Wild Observatory, Narrabri:
The Australia Telescope National Facility, CSIRO
1828 Yarrie Lake Road
Narrabri NSW 2390
Australia
email:narrabri@atnf.csiro.au
tel: +61 2 6790 4000
The telephone number for the control room at Mopra is +61 2 6849 1801. The telephone number for the Mopra desk at Narrabri is +61 2 6790 4088.
Please note that there may be no one present at the site.
---
Site Information
Accommodation
With the introduction of remote observing, astronomers now stay at the Narrabri Lodge. Accommodation can be booked through the on-line form. Information about getting to Narrabri and the Narrabri Lodge are available here.
For observations for which staying at or near the telescope has been approved, more information is available here.
---
Original: Nuria McKay (7-Sep-1995)
Modified: Phil Edwards (24-oct-2016)