The Minister's Visit
The Minister for Science, The Hon John Moore, was unable to attend the 'sodturning' ceremony for the extension of the telescope so a visit was arranged for 20 May to inspect the facility.
En route to Narrabri the Minister stopped in at Siding Spring Observatory at Coonabarabran to inspect Australia's largest optical telescope. After a tour of the Australia Telescope Compact Array that included morning t ea on an antenna while it travelled along the three kilometre track the Minister lunched with senior staff before travelling to the CSIRO Australian Cotton Research Unit also at Narrabri.
Below are a couple of photographs that were taken during the Minister's visit.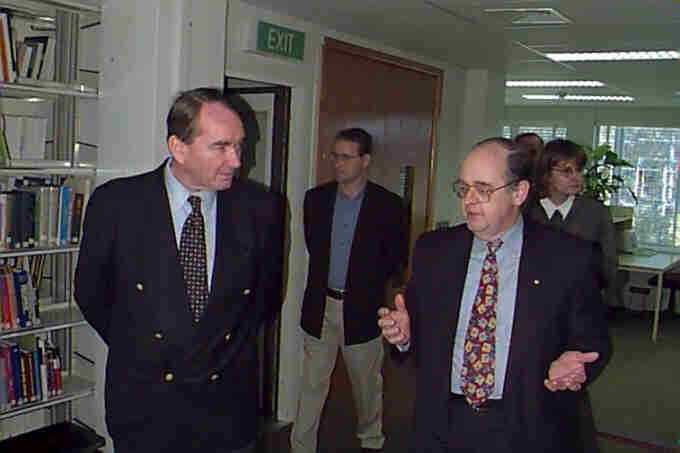 TheMinister for science The Hon John Moore (left) is escorted into the Observers area by the Deputy Chief Executive CSIRO Dr Bob Frater.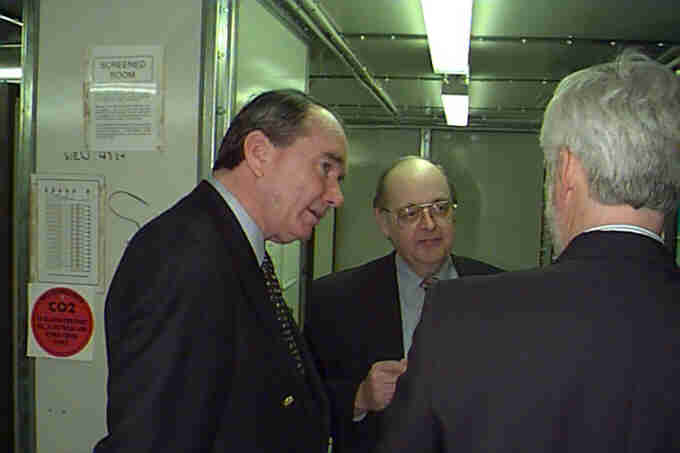 The Hon John Moore is shown the correlator computer by Dr Bob Frater and OIC ATCA Dr Dave McConnell (back to camera).
---
Original: Tim Kennedy (21-May-1998)
Modified: Tim Kennedy (22-May-1998)