The official opening of the Compact Array
The Australia Telescope Compact Array was officially opened on 2 September 1988 by the Prime Minister, Hon. R.J.L. Hawke.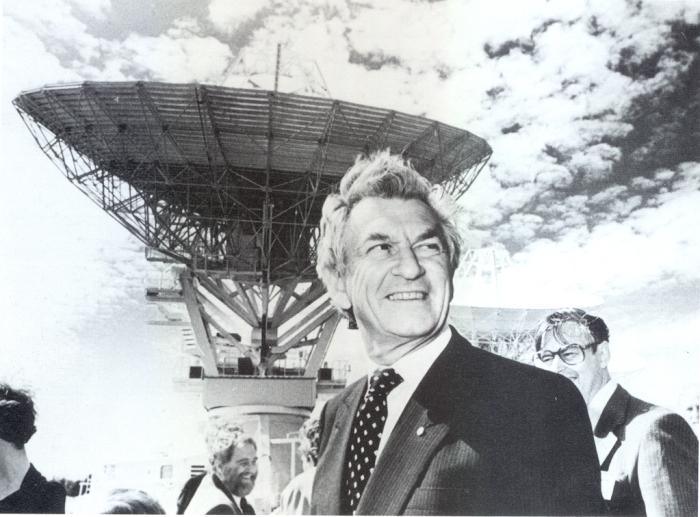 Today we are inaugurating a new era in Australian scientific research - the major Bicentennial science project - which will ensure Australia remains at the forefront of radio astronomy .....
... So said the Prime Minister, The Hon. R.J.L. Hawke, MP, at the opening of the Australia Telescope on Friday 2 September. His pride was evident, and certainly shared by the eight hundred people in the audience. As Mr Hawke noted, one of the most gratifying aspects of the Australia Telescope project is that it has demonstrated Australia's increasing technological self-sufficiency:
The Australia Telescope is the state-of-the-art in astronomical technology, and it is conceived, designed and manufactured in Australia.
Right from the start it was decided that Australian firms should be largely responsible for building the Telescope. This has helped Australian industry develop the design and production skills we will need if we are to be competitive in our own local market, as well as on the world market, in one of the most important and potentially one of the most productive of high technology industries, the space and telecommunications industry.
With this $50 million telescope, Australians have proven their skills and their capacities in key areas of space and telecommunications research and development. The Australia Telescope project has stimulated a substantial increase in collaboration between CSIRO and industry on significant new technological developments for export.
As Prime Minister, I want to express my pride in this Telescope as a world class achievement and my gratitude to all those who have been responsible for building it.
Another speaker, The Hon. Barry Jones, MP, Minister for Science, Customs and Small Business, also stressed the boost that the AT had given to Australian industry:
The Australia Telescope has more than 80% Australian content. The spinoffs for Australian industry will be considerable. The Australia Telescope is not just a scientific triumph, it is an engineering one as well. The commissioning of the Australia Telescope is the scientific highlight of our Bicentennial year ...
Dr R.H. Frater, who had been Project Director during the AT's construction, expressed everyone's belief in the instrument's potential. The opening, he said, marked
... the beginning of a new era for Australian astronomy, indeed for world astronomy, as we look to the new possibilities opened up by this instrument in the southern hemisphere. We look with confidence, because among the basic sciences, astronomy is unparalleled in the number of real surprises and public interest per dollar spent.
I salute the Australia Telescope and hope for other great projects which will restore Australia's reputation as a scientific innovator.

The Narrabri crew in 1988
(Back row)John Allison, Dennis Allman, Ken Redman, Graeme Sunderland, Ron Beresford
(Middle row)Trina Gordon, Elizabeth Treseder, Carolyn Garth, Vicki Gallagher, Judy McInnes
(Front row)Pat Sykes, Eddie Preston, Rick Forster, Alan Spencer, Graham Nelson, Graham Blows
(missing: Simon Hoyle, Mike Kesteven, Brian Wilcockson)
---
Original: Bob Sault (4-Apr-2004)
Modified: Bob Sault (4-Apr-2004)