The Compact Array Visitors Centre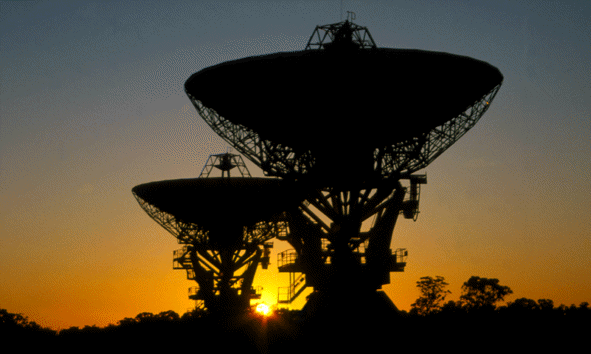 Two of the Compact Array's antennas at dusk. (Photo by John Masterson)
Visits by the general public are always welcome!
Associated with the observatory is a Visitors Centre where you can view the antennas. The Visitors Centre is open from 8:00am-5:00pm daily and admission is free. There are a number of displays inside and outside the building, and a video relating to the observatory. Next to the Visitors Centre there is an electric barbeque area which is closed due to the pandemic.
The Visitors Centre is at the edge of a dry woodland environment, where kangaroos and galahs are plentiful. Occasionally emus, echidnas and (very occasionally) koalas can be seen.
For more information about astronomy, the observatory and its surroundings, please look through our Information for the public pages.
Site staff can be contacted on (02) 6790 4000.
---
Original: Robin Wark (1-Feb-2002)
Modified: Peter Mirtschin (6-Jul-2020)